Remembering Resistance
Cataloging a 100 years of women's protests in Northern England
Background
As a research assistant during my PhD I worked on the
Remembering Resistance︎︎︎
project with
Dr Christopher Boyko︎︎︎
from Lancaster's Imagination Lab and
Dr Sarah Marsden︎︎︎
from the University of St Andrews. The project explored women's changing relationship with protest, power, and place to highlight powerful stories of resistance that inspire change.
Major Contribution

Tasked alongside
Yujia Huang︎︎︎
to curate collected data throughout the project for an exhibition in the
Millennium Gallery Sheffield︎︎︎
, this work required a close attention to understanding the best means for visualising such a large amount of data alongside wayfinding in the provided space. As research assistants we curated this exhibit and designed supporting material based off or using the collected research material and artefacts from the project. The unique limitations of the space meant careful appropriations and decisions had to be made.

Poster designed for exhibition


Timeline Visualisation

The project had been collecting data spanning the last 100 years which became a challenge to represent in a unified manner. The timeline designed for this purpose presented the data categorised and spread out like DNA fragments to reflect the sentiments of power and place within society as a foundational element for change. The timeline was later incorporated in the project website as part of the Virtual Museum︎︎︎ experience.



Visualising 100 years of women's activisim in the North of England.


Protest Walk
As this exhibit was intended to highlight the sense of power and place a large part of the experience was designing a larger than life protest walk. All images used throughout the curation was from collected resources during the project. The protest walk was printed on perforated fabric and hung at the entrance, visitors were encouraged to be part of the protest and walk along/through the fabric protestors. This piece became a highlight of the exhibit and was later brought to Lancaster University as a rotating exhibit of research representing Lancaster's Institute of the Contemporary Arts.


The protest walk was designed to be an emersive experience for visitors.


Interactivity
Along with the timeline interactive elements were incorporated into the exhibition. The project required a means to present hours of oral histories that were collected as part of the research. To do this interactive points were designed as tablet applications with purpose built housings. These audio points brought about a means for visitors to hear first hand from the activists their experiences and their lives. These oral histories are presented as part of the projects Virtual Museum︎︎︎ experience. A second means was of engaging visitors through a talking board and interactive area for learning about activisim and power.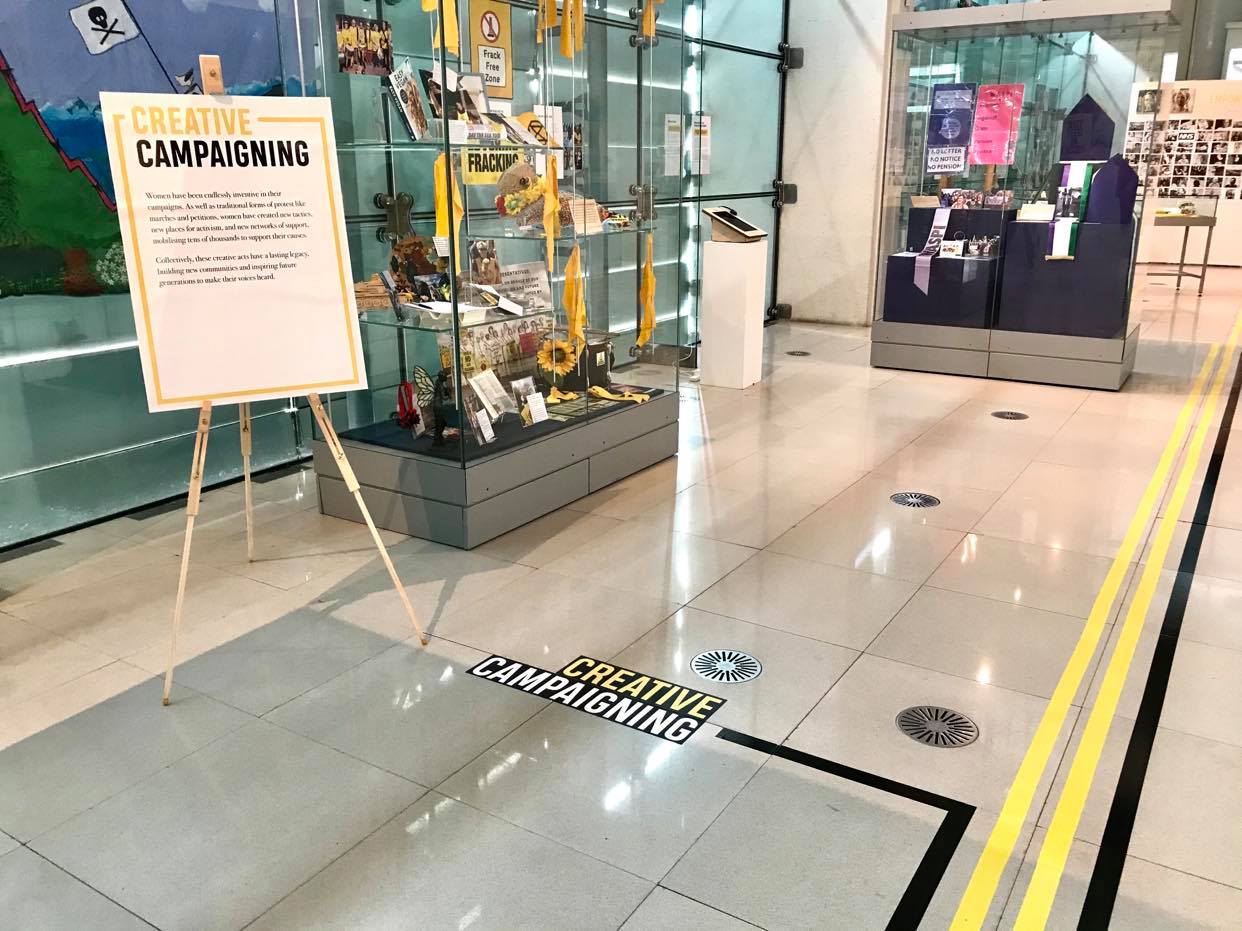 Views from the exhibition.


---